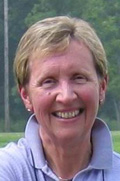 We are very proud of GEC-KO's own Dr. Judith Allanson who will be receiving the 2014 Founders Award from the Canadian College of Medical Geneticists (CCMG).   This award is given to members of the CCMG who have made outstanding contributions to Canadian medical genetics.  The award is in recognition of an outstanding career in medical genetics in Canada or abroad.  Dr. Allanson will be receiving the reward at the 2014 CCMG meeting in Vancouver on Friday November 7th.  Additionally, earlier that day Dr. Allanson will be giving a talk about Genomics and Primary Care, highlighting some of GEC-KO's research activities. 
Dr. Allanson's research is focused on learning more about how we recognize differences in facial morphology, including the application of 2D and 3D photogrammetry. Her research also investigates how primary care providers use family history to interpret risk for a genetic disorder, and how they integrate genomic medicine into their practice. Dr. Allanson's research goals are to engage and educate healthcare providers and the public in order to optimize the use of genomic medicine.
Dr. Allanson's career-long research interests have focused on the evaluation of facial features and syndrome identification. She has a long-standing interest in the natural history and genotype-phenotype correlations of Noonan syndrome, a common condition caused by mutations in genes in the Ras-MAPK pathway. She is a member of research teams that focus on health services and health policy: how we evaluate genetic services; the understanding, perception and application of genetic knowledge by primary care providers; and the translation of gene discoveries into health benefits.
As we know, Dr. Allanson is passionate about genetics literacy. She is co-editor of a book on management of common genetic syndromes and co-founded and currently co-directs the new Children's Hospital of Eastern Ontario (CHEO) funded resource: Genetics Education Canada – Knowledge Organization (GEC-KO).
Congratulations Dr. Allanson!!! It is a well-deserved honour!!!