Hereditary Hemochromatosis
Triage and Surveillance Tool
The following tool contains:
Red Flags to identify patients at risk of Hereditary Hemochromatosis most likely to benefit from genetic testing and/or referral to genetics
Screening and surveillance recommendations for individuals who have a positive genetic test result for Hereditary Hemochromatosis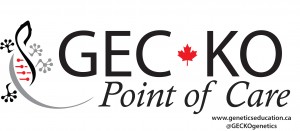 Hereditary Hemochromatosis Triage and Surveillance point of care tool
–
GEC-KO aims to aid the practicing non-genetics health professional by providing informed opinions regarding genetic/genomic conditions, services and technologies that have been developed in a rigorous and evidence-based manner with periodic updating. The content on the GEC-KO site is for educational purposes only. No resource should be used as a substitute for clinical judgement. GEC-KO assumes no responsibility or liability resulting from the use of information contained herein.