Hypertrophic Cardiomyopathy
Evaluation and Management Tool
Hypertrophic cardiomyopathy (HCM) is a relatively common condition affecting the heart muscle and can present at any age.
The evaluation and management of HCM is outlined in the following downloadable point of care tool. The principal role of genetic testing is not to confirm a diagnosis but rather to identify the causative gene in the affected individual and to provide a clinical tool for screening family members at risk of developing the disease. In general, affected individuals and their first degree relatives should be referred to both cardiology and genetics specialists. Updated June 2014.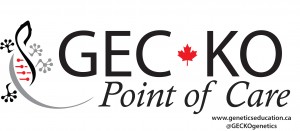 Hypertrophic cardiomyopathy point of care tool (More information on HCM can be found in the GEC-KO on the run)
–
GEC-KO aims to aid the practicing non-genetics health professional by providing informed opinions regarding genetic/genomic conditions, services and technologies that have been developed in a rigorous and evidence-based manner with periodic updating. The content on the GEC-KO site is for educational purposes only. No resource should be used as a substitute for clinical judgement. GEC-KO assumes no responsibility or liability resulting from the use of information contained herein.