Hereditary Renal Cell Cancers
Canadian guidelines were published (2013) to facilitate healthcare providers' identification of patients who may have a hereditary renal cell cancer (RCC) syndrome and could benefit from referral for genetic consultation. These guidelines were developed for use without the need of extensive knowledge of each RCC syndrome.
The criteria refer to the most common hereditary renal tumour syndromes and do not represent a comprehensive or exclusive list. Prospective validation of the criteria is warranted. The Kidney Cancer Research Network of Canada Genetics Initiative will review the guideline at least every 2 years.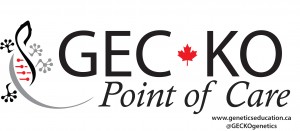 Point of care tool outlining how to identify those patients most likely to benefit from referral to genetics for assessment of a hereditary renal cell cancer syndrome.
Reaume MN, Graham GE, Tomiak E, Kamel-Reid S, Jewett MA, Bjarnason GA, Blais N, Care M, Drachenberg D, Gedye C, Grant R, Heng DY, Kapoor A, Kollmannsberger C, Lattouf JB, Maher ER, Pause A, Ruether D, Soulieres D, Tanguay S, Turcotte S, Violette PD, Wood L, Basiuk J, Pautler SE and Kidney Cancer Research Network of Canada. Canadian guideline on genetic screening for hereditary renal cell cancers. Can Urol Assoc J 2013; 7(9-10): 319-23
–
GEC-KO aims to aid the practicing non-genetics health professional by providing informed opinions regarding genetic/genomic conditions, services and technologies that have been developed in a rigorous and evidence-based manner with periodic updating.  The content on the GEC-KO site is for educational purposes only.  No resource should be used as a substitute for clinical judgement.  GEC-KO assumes no responsibility or liability resulting from the use of information contained herein.